WUD
Introduction
The device has an ESP32-S2 module that allows it to be identified as a keyboard + USB disk. It also a microSD slot that can be identified as MSC SD Card.
The new ESP32-S2 module from Espressif addresses the security flaws in the original ESP32. While the ESP32-S2 does include improved security features, it lacks the Bluetooth capabilities of the original ESP32 module. But it supports native USB.
For sale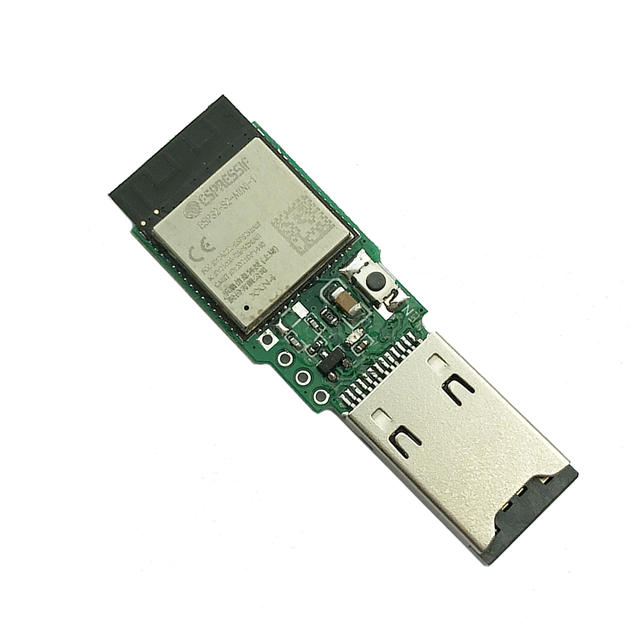 open in new window
Features
ESP32-S2 Module

Xtensa® Single-Core 32-bit LX7 Microprocessor (up to 240MHz)

RISC-V ULP Coprocessor
128KB ROM and 320KB SRAM
4MB of Embedded SPI Flash Storage

Cryptographic Hardware Accelerators

AES, ECB/CBC/OFB/CFB/CTR, GCM, SHA, RSA, and ECC (Digital Signature)

Physical Security Features

Transparent external flash and RAM encryption (AES-XTS)
Secure Boot feature ensures only signed firmware (with RSA-PSS signature) is booted
HMAC and Digital Signature modules use software inaccessible keys to generate SHA-MAC and MAC signatures

Integrated 802.11 b/g/n WiFi 2.4GHz Transceiver (up to 150Mbps)
Integrated Temperature Sensor (-20°C to 110°C)
Operating Voltage: 3.0 to 3.6V

WiFi: 310mA (peak)
Light-Sleep: 550µA
Deep-Sleep: 20-235µA

USB-A Connector
Micro SD slot
Reset and GPIO0 button of ESP32 S2. One of button is hall sensor
Hardware overview
Board Dimensions

17mm x 50mm (Without USB case)
19mm x 62mm (With USB case)

USB-A Connector
Micro SD slot
ESP32-S2 mini Module
Buttons

Reset button
GPIO0 for program

Status LED - This indicator is connected to GPIO 21
PCB version changes
PCB v1.2

Reset button - Hall sensor
GPIO0 - K1

PCB v1.1

Reset button - K1
GPIO0 - Hall sensor
Device Firmware Upgrade through USB
The ESP32-S2 chip needs to be in bootloader mode for the detection as a DFU device and flashing. This can be achieved by pulling GPIO0 down, pulsing RESET down for a moment and releasing GPIO0.
How to make the ESP32-S2 go to bootloader mode
Plug the WUD to laptop
Pull down and hold the GPIO0 button
Press the reset button, WUD will go to bootloader mode now
See Device Firmware Upgrade via USBopen in new window for more information
Software overview
The pre-flashed firmware is "Wireless USB diskopen in new window". It use ESP32-S2 as an USB Disk with Wireless accessibility. HTTP file server be used with both upload and download capability.
Note: It's a demo code. Don't use it in serious application.
Resources
Firmware